Jun 13, 2009
Tim Russert's Best Friend Remembers Him
6/13/09
https://www.wgrz.com/news/local/story.aspx?storyid=67604&provider=gnews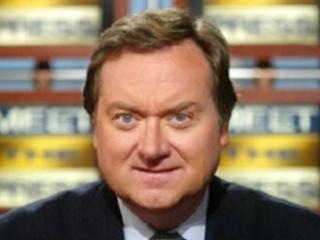 Mike Barnicle was Tim Russert's best friend.
"I miss him everyday, I miss him everyday," says Barnicle.
"I miss his companionship, I miss his sense of humor," he adds.
They were two Irish Catholic guys from blue collar families, one from Buffalo, the other from Boston.
Tim was Godfather to one of Mike's sons.
Scott Brown: "If you had three or four words to describe him, what would they be?"
Barnicle: "Generous, loyal, honorable and loving."
The two men shared a love of family, and sports, and politics.
"He knew what it was to lead a real life, largely because of his upbringing in Buffalo and largely because he was unchanged as he progressed through his life." said Barnicle.
"From working for Senator Moynihan and Governor Cuomo of New York, to becoming arguably the most important media figure in the country on Meet the Press, he never changed, he was always just a real guy."
Scott Brown: "Did he talk about South Buffalo and the real people and the steelworkers and the guys he grew up with?"
Barnicle: "Nearly everything that Tim brought to the table was always about South Buffalo, always about where he grew up, always about the Catholic church, the parochial school, the nuns who taught him, his father's friends, the VFW post, the Legion Post, his dad's experience in World War II.
"Everything, everyday within there was South Buffalo, he could be living in Washington, D.C. he could be in Paris with the president, he could be with the Pope in Rome and he always brought South Buffalo to the table, that was part of his magic."
Brown: "How often did his love of Buffalo and the Bills and the Sabres and everything else come up in conversation?"
Barnicle: "You could get Tim in an instant bad mood with two words: 'wide right'. You'd be talking about Scott Norwood missing that field goal in the Super Bowl. Two words, wide right he would go into a funk, for years he would go into a funk after that event."
Brown: "Can you tell us how Luke and his wife Maureen are doing these days?"
Barnicle: "I think they're doing as well as can be expected. And yet lingering over the two of them obviously is the fact that Tim is gone and they can still, I'm sure as I can, as many people out there can, still hear his voice. He still has a resonance in their lives, he always will. So it's a burden they carry, the loss of a husband and a father, but they're doing pretty well."
Tim's death a year ago was the ultimate of ironies.
The man who considered himself the luckiest guy in the world died on Friday, the 13th.
The guy who wrote a best seller about his father died on the eve of Father's Day weekend.
Brown: "What is this Father's Day going to be like without him?"
Barnicle: "It's going to be a very difficult day, Father's Day. But I think every day is a difficult day for anyone who has lost a loved one, it's particularly tough for Luke and Maureen because they suffered such a public loss, but every day has been difficult Scott."
Brown: "What's a great Tim Russert story that encapsulates who he was and what kind of fun he had?"
Barnicle: "Tim loved to come to Fenway Park and sit with me and by the third inning he would have mustard all over his golf shirt and people coming up to him asking for autographs. A fellow comes up to him, this is several years ago, and asks him for an autograph, Tim takes the pen and signs and thanks the fellow very much and the guy says 'I want to thank you very much for the ketchup too' because Tim had slobbered ketchup all over the autograph paper (laughs)."
Brown: "It seemed like he squeezed every bit of joy and fun and excitement out of those 58 years?"
Barnicle: "Yeah he did, he sure did. He had more fun in his life than most people have in two or three lifetimes. And he had fun everyday and the best part of the fun that Tim had was whether it was at work, whether it was on Nantucket, whether it was in Buffalo at a Bills game, he didn't have to work at having fun, because having fun came naturally to Timmy."