Tag: time
Last week, Laura and Gary Sklaver buried their oldest boy, Ben, who was 32 when killed by a suicide bomber in the remote village of Murcheh in the distant land of Afghanistan. Ben was a captain in the U.S. Army. Now he has become one of 804 Americans, 37 from Connecticut, to lose their lives in an expanding war that belongs mostly to the parents and families of those who serve a nation preoccupied by a wounded economy and political polarization.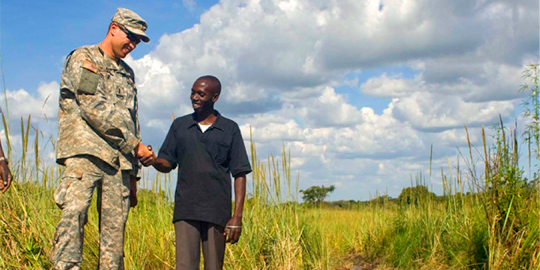 "He didn't have to go," Laura Sklaver said the other day. "His obligation was up in May."
"But he was recalled in March," Gary Sklaver added. "And he didn't want to leave his men."
Ben Sklaver grew up drawn to service. He admired his grandfather, who served with George Patton's Army in World War II. He joined ROTC at Tufts, received a master's in international relations from the Fletcher School of Diplomacy, was commissioned as an officer in the Army Reserve in 2003 and became convinced that a world consumed with conflict and terrorism might be changed by Americans bringing clean water, medicine and food as much as by drones, missiles and military might.
"This was his second tour overseas," said Laura while sitting at her dining-room table. "His unit went to Uganda for a year in 2007. That's where he created his nonprofit, the ClearWater Initiative, so people there would have something we all take for granted — clean water."
In a dangerous and divided world, Ben's principal weapon was idealism. In Uganda, he helped bring the simplest of things — clean drinking water and a bit of hope — to thousands who often saw sunrise as just one more dawn in a country where death can seem as common as drawing a breath. After his tour in Uganda ended, he came home seeking other ways to help those most in need.
"Ben had just started a new job with FEMA in New York when his unit was recalled," Gary Sklaver said. "They were supposed to go to Iraq, but then the strategy changed along with his orders, and they were sent to Afghanistan."
He shipped out July 6. His fiancée, Beth Segaloff, drove him to the airport. They set a wedding date for next June, when his tour of duty in Afghanistan was to end. "I cried every day he was there," his mother, a lawyer, says. "I took long walks every day, worried every minute, avoided reading the papers or listening to news about the war, wondered how my son could tell the difference between people over there who wanted peace and people who wanted to kill him."
On the day Ben died, four other Americans were also killed in the nearly medieval land that has exposed the folly of empires for centuries. At the final moment of his young and accomplished life — when he stood talking to a village leader in Murcheh — he wore the colors of a country nobly represented by an all-volunteer Army; he fought on behalf of a dangerously self-absorbed people back home and the politicians who represent them, many of whom are unable to see beyond the next election.
"When did you last hear from him?" I asked his parents.
"The last time we spoke was on Yom Kippur," Laura said. "He called to wish us well."
"We didn't talk long," said Gary. "Ben said he wanted to let his men use the phone while they had one. That's who Ben was: generous, kind, always looking out for others."
And here is how war too often ends for those who serve and the families left behind, the uncounted casualties among us: a knock on the door of a home located on a small-town street where fallen leaves glisten in Autumn sun. Two soldiers on the stoop bearing the bitter details of death. A mother and father driving to Dover Air Force Base in Delaware to stand on a tarmac while their oldest boy, a lost treasure to his family and his nation, is carried gently to a hearse. A crowded service last Tuesday at Congregation Mishkan Israel in Hamden. A dining-room table filled with pictures of his life, letters of condolence, medals awarded for bravery, a folded flag and young Ben's parents — Gary and Laura Sklaver — left with a permanent hole in the heart, two more casualties of a war waged by the forgotten few.
Mélida Arredondo, of Roslindale, Mass., center, holds boots worn by her son, Marine Lance Corporal Alexander Arredondo, who was killed in Iraq in 2004, as she joins demonstrators in Boston Dec. 2 in opposition to President Obama's plan to commit an additional 30,000 troops to the war in Afghanistan. Josh Reynolds / AP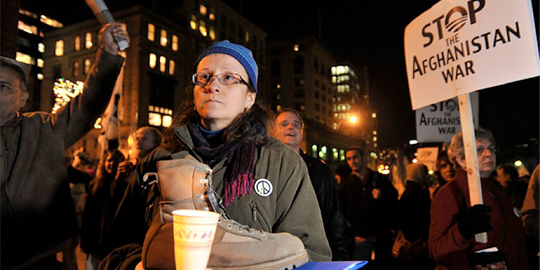 Nearly everything is a sad reminder for Mélida Arredondo: the news on TV, stories in the paper, speeches of Barack Obama and others who talk about a war that seems to have lasted so long and affected so many lives, those lost as well as those left behind.
"Did your son like the Marine Corps?" I ask her.
"Yes," she replies. "He loved it."
"And why did he join?"
"Too poor to go to college," Mélida Arredondo says.
Alexander Arredondo enlisted at 17 and was killed at 20 in Najaf during his second deployment in Iraq. He died on his father's birthday, Aug. 25, 2004, when Carlos Arredondo turned 44.
"My husband almost killed himself in grief," his wife says. "The day [the Marines] came to tell us Alex was dead, he poured gasoline all over himself and all over the inside of [their] car and lit it on fire. He survived … physically."
Last week, she and her husband went to the Kennedy Library in Boston to hear Ted Kennedy's widow talk about her husband's book, True Compass. She and Carlos, born in Costa Rica, stood patiently while Vicki Kennedy signed books and shook hands. They reminded her that their son Alex and her husband the Senator died on the same day, Carlos' birthday, five years apart, and they thanked her for the help Senator Kennedy provided after the young Marine's death when his father sought citizenship.
"I remember," Vicki Kennedy told them.
The library event took place hours after Obama announced he would throw 30,000 additional troops into an ungovernable country called Afghanistan. Carlos and Mélida Arredondo listened and thought of their lost son and a nephew now at Fort Hood, one tour of Afghanistan behind him, a second on the horizon because the Army is fractured by years of battle.
"People have no idea what it does to families," she says. "When he got killed, I didn't sleep for days. I still don't sleep. I lost 30 pounds. My husband withdrew from everyone.
"My son Brian, he is 22, and he can't seem to do anything without thinking about Alex. We are very worried about him."
The families of the fallen are nearly alone in a nation served by an all-volunteer military now nearing a decade on the front line against an enemy that wears no uniform and cannot be brought to any negotiating table. The pain of loss is forever. Their shared grief scatters across the land like ashes blown by the wind, invisible to the majority preoccupied with joblessness and a gnawing anxiety that America might be broken.
"I was disappointed in Obama," Mélida Arredondo says. "I thought, 'I've heard this before, from Bush.' He wasn't as passionate as he usually is. He sounded like a professor. I want to hear him talk about the cost of these wars. I want a discourse about a war tax. I want people to have some skin in the game."
"Did you believe him?" I ask.
"Wrong question," she suggests. "Did he believe his own speech? I don't think so."
She speaks from another battleground too, the health care wars that threaten to swallow Washington. For nine years, Mélida Arredondo has worked at a neighborhood health center in the Dorchester section of Boston, the Upham's Corner Health Center. She has a master's in public health and does the work of three people because of staff layoffs and funding cutbacks.
"We take care of the poor," she points out. "We had 250,000 patient visits last year in this one clinic. We'll have even more this year. We have staff people who speak Vietnamese, Spanish, Haitian Creole, Portuguese and English. Many of the people we see are uninsured. The costs are enormous. That's why I'm a fiscal conservative. Working here, I have to be."
She is behind a desk on the second floor of a three-story brick building located on a busy boulevard filled with those who measure the future by a wristwatch. She is surrounded by the heartache of those who show up grappling with the oldest of maladies: no money. The work helps push her own sadness, etched permanently in her eyes, off the screen for a few hours each day.
Two days ago, returning home in darkness, she discovered a letter from the President. She and her husband had written twice to the White House, upset about the prospect of increased casualties.
"Thank you for writing me," Barack Obama wrote. "Every day, we are humbled by the legacy of our men and women in uniform who sacrificed their lives for our country."
Mélida Arredondo paused after that first paragraph. She thought of Alex and her husband Carlos and her nephew at Fort Hood. She thought about the long parade of the poor who arrive each day at her work seeking care, and she thought about the fact that she was a member of a Gold Star family.
"Wars cost a lot," she says.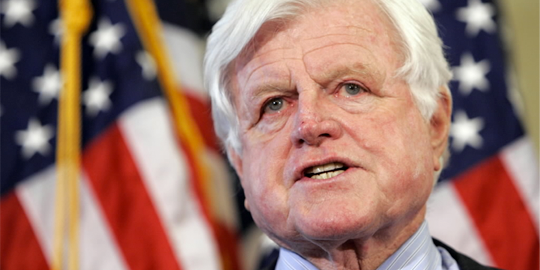 Here was Ted Kennedy, 74-year-old son, brother, father, husband, Senator, living history, American legend. He was sitting on a wicker chair on the front porch of the seaside home that held so much of his life within its walls. He was wearing a dark blue blazer and a pale blue shirt. He was tieless and tanned on a spectacular October morning in 2006, and he was smiling too because he could see his boat, the Mya, anchored in Hyannis Port harbor, rocking gently in a warm breeze that held a hint of another summer just passed. Election Day, the last time his fabled name would appear on a ballot, was two weeks away.
"When you're out on the ocean," he was asked that day, "do you ever see your brothers?"
"Sure," Kennedy answered, his voice a few decibels above a whisper. "All the time … all the time. There's not a day I don't think of them. This is where we all grew up. There have been some joyous times here. Difficult times too.
"We all learned to swim here. Learned to sail. I still remember my brother Joe, swimming with him here, before he went off to war. My brother Jack, out on the water with him … I remember it all so well. He lived on the water, fought on the water."
He paused then, staring toward Nantucket Sound. Here he was not the last living brother from a family that had dominated so much of the American political landscape during the second half of the 20th century; he was simply a man who had lived to see dreams die young and yet soldiered on while carrying a cargo of sadness and responsibility.
"The sea … there are eternal aspects to the sea and the ocean," he said that day. "It anchors you."
He was home. Who he was — who he really was — is rooted in the rambling, white clapboard house in Hyannis Port to which he could, and would, retreat to recover from all wounds.
"How old were you when your brother Joe died?" Ted was asked that morning.
"Twelve," he replied. "I was 12 years old."
Joe Kennedy Jr., the oldest of nine children, was the first to die — at 29 — when the plane he was flying on a World War II mission exploded over England on Aug. 12, 1944.
"Mother was in the kitchen. Dad was upstairs. I was right here, right on this porch, when a priest arrived with an Army officer. I remember it quite clearly," Kennedy said.
Kennedy remembered it all. The wins, the losses and the fact there were never any tie games in his long life. Nobody was neutral when it came to the man and what he accomplished in the public arena. And few were aware of the private duties he gladly assumed as surrogate father to nieces and nephews who grew up in a fog of myth.
He embraced strangers. Brian Hart met Kennedy at Arlington National Cemetery on a cold, gray November day in 2003. Brian and his wife Alma were burying their 20-year-old son, Army Private First Class John Hart, who had been killed in Iraq. "I turned around at the end of the service, and that was the first time I met Senator Kennedy," the father of the dead soldier said. "He was right there behind us. I asked him if he could meet with me later to talk about how and why our son died — because he did not have the proper equipment to fight a war. He was in a vehicle that was not armored.
"That month Senator Kennedy pushed the Pentagon to provide more armored humvees for our troops. Later, when I thanked him, he told me it wasn't necessary, that he wanted to thank me for helping focus attention on the issue and that he knew what my wife and I were feeling because his mother — she was a Gold Star mother too.
"On the first anniversary of John's death, he and his wife Vicki joined Alma and me at Arlington," Brian said. "He told Alma that early morning was the best time to come to Arlington. It was quiet and peaceful, and the crowds wouldn't be there yet. He had flowers for my son's grave. With all that he has to do, he remembered our boy."
Ted Kennedy was all about remembering. He remembered birthdays, christenings and anniversaries. He was present at graduations and funerals. He organized picnics, sailing excursions, sing-alongs at the piano and touch-football games on the lawn. He presided over all things family. He was the navigator for those young Kennedys who sometimes seemed unsure of their direction as life pulled them between relying on reputation and reality.
An emotional man, he became deeply devoted to his Catholic faith and his second wife Vicki. He even learned to view the brain cancer that eventually killed him as an odd gift — a gradual fading of a kind that would be easier for his family and friends to come to terms with than the violent and sudden loss of three brothers and a sister, Kathleen. He, at least, was given the gift of time to prepare.
The day after Thanksgiving in 2008, six months after his diagnosis, Kennedy had a party. He and Vicki invited about 100 people to Hyannis Port. Chemotherapy had taken a toll on Ted's strength, but Barack Obama's electoral victory had invigorated him. His children, stepchildren and many of his nieces and nephews were there. So were several of his oldest friends, men who had attended grammar school, college or law school with Kennedy. Family and friends: the ultimate safety net.
Suddenly, Ted Kennedy wanted to sing. And he demanded everyone join him in the parlor, where he sat in a straight-backed chair beside the piano. Most of the tunes were popular when all the ghosts were still alive, still there in the house. Ted sang "Some Enchanted Evening," and everyone chimed in, the smiles tinged with a touch of sadness.
The sound spilled out past the porch, into a night made lighter by a full moon whose bright glare bounced off the dark waters of Nantucket Sound, beyond the old house where Teddy — and he was always "Teddy" here — mouthed the lyrics to every song, sitting, smiling, happy to be surrounded by family and friends in a place where he could hear and remember it all. And as he sang, his blue eyes sparkled with life, and for the moment it seemed as if one of his deeply felt beliefs — "that we will all meet again, don't know where, don't know when" — was nothing other than true.
"I love living here," Ted Kennedy once said. "And I believe in the Resurrection."